Minot State University
Media Contact: Linda Benson, public information specialist
(701)858-3199 – linda.benson@minotstateu.edu
For Immediate Release: Date: May 23, 2014
MINOT SERTOMA CLUB PLEDGES $100,000 TO MSU FOUNDATION
Continuing a tradition of supporting Minot State University speech and hearing efforts, Mylan Sand, Minot Sertoma Club president, presented $28,000 to Marv Semrau, MSU vice president for advancement, on May 19. Minot Sertoma Club pledged $100,000 to the MSU Development Foundation to enhance the Minot Sertoma Club Scholarship fund and to fund equipment in the Department of Communication Disorders. The check is the first installment of that commitment.
"With this $28,000 gift, Minot Sertoma continues to assist students in attaining their education towards speech and hearing careers," Semrau said. "This contribution brings the endowment, from which annual scholarships are awarded, to over $200,000."
In addition to the donation, the Minot Sertoma Club awarded four scholarships, totaling $7,000, for the 2014-15 academic year to Kelsey Schiele, Courtney Johnson, Jorden Brown and Katelyn Larson.
In 1989, the Minot Sertoma Club established the Minot Sertoma Club Scholarship to provide scholarships to MSU students majoring in communication disorders and deaf education.
The Minot Sertoma Club has a 54-year history of Service to Mankind in the Minot area. It has a mission of supporting speech and hearing projects, youth-related projects and national heritage efforts. Its primary fundraisers are a Norsk Høstfest car raffle, Beer Fest and Christmas in the Park, an annual light display in Oak Park from Thanksgiving through Dec. 31. On May 4, Minot Sertoma Club raised over $12,000 at its Celebrate Sound Walk.
For questions about the donation, contact Semrau at marv.semrau@minotstateu.edu.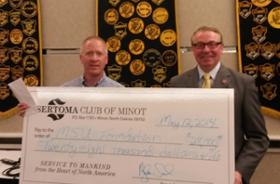 -end-