Continuing a tradition of supporting Minot State University speech and hearing efforts, the Minot Sertoma Club contributed $36,000 today (March 20) to the MSU Development Foundation. The donation will fund the purchase of new voice lab equipment for the Department of Communication Disorders and enhance the Minot Sertoma Club Scholarship fund.
"The digital equipment donated by the Minot Sertoma club offers MSU students high-quality, advanced technology for comprehensive vocal assessment," said Lisa Roteliuk, communication disorders instructor. "The equipment offers a recording system which will enhance clinical efficiency and reporting of findings. The equipment will be utilized for student learning, in-clinic patient assessments and research purposes."
In 1989, the Minot Sertoma Club established the Minot Sertoma Club Scholarship to assist MSU communication disorders students. Twenty years ago, the local service club purchased voice lab evaluation equipment for the department. State-of-the-art technology then was analog, today it is digital. With today's donation, the club's total donation to MSU is approximately $175,000.
"We are extremely grateful for Sertoma's support of our speech-language pathology program. This generous donation will allow us to once again have the latest technology available to train students and to serve clients in our on-campus clinic," said Leisa Harmon, communication disorders department chair.
"With this $20,000 gift, we are pleased to enhance the Minot Sertoma Club Scholarship fund that is dedicated to assisting students advancing their education towards speech and hearing careers. This contribution brings the endowment to over $90,000 from which annual scholarships are awarded," said Connie Feist, Minot Sertoma Club president. "We are also proud to announce an additional $16,000 gift, which will be used to purchase voice lab equipment used within the communication disorders department. This will upgrade equipment that is used as learning tools and benefits the entire speech-and-hearing community."
The Minot Sertoma Club has a 53-year history of Service to Mankind in the Minot area. It has a mission of supporting speech and hearing projects, youth-related projects and national heritage efforts. Its primary fundraisers are a Hostfest car raffle, Beer Fest and Christmas in the Park, an annual light display in Oak Park from Black Friday through Dec. 31.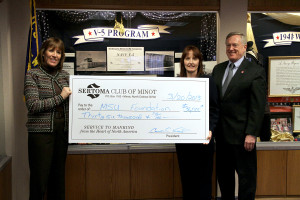 Donation to Minot State University Foundation

Communication Disorder Department students and staff presented with $36,000 for new equipment.

See photo »